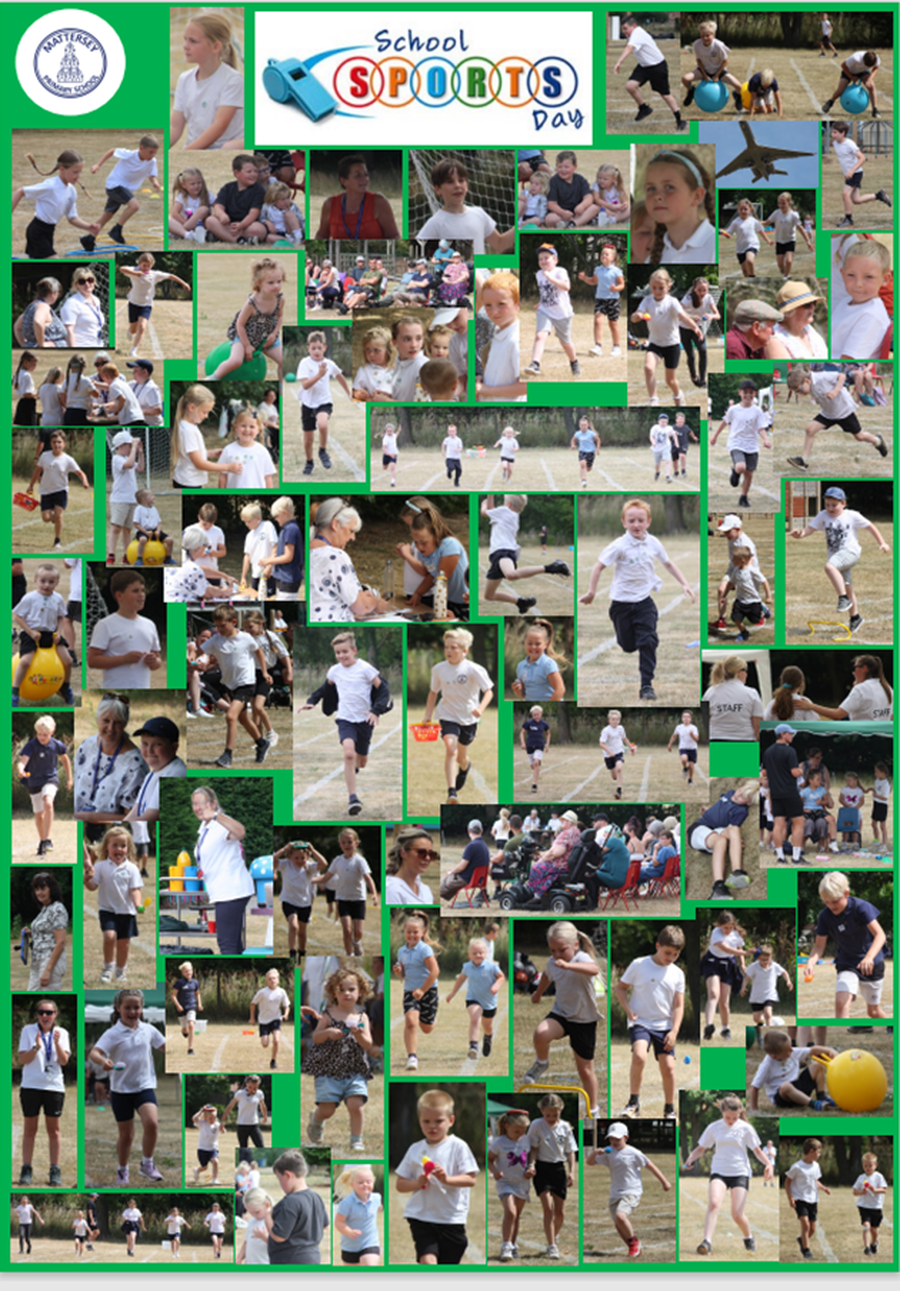 Whole School Sports Day at Mattersey
Physical Education (PE)
"Never say never because limits, like fears, are often just illusions.
Michael Jordan
Key Documents:
PE Learning Progression EYFS to Year 6
PE Curriculum Overview Whole School
Intent
At Mattersey Primary School, we believe PE is an essential part of our curriculum; we strive to create a culture which inspires an active generation to enjoy PE, encourage each other and achieve. We provide a safe and supportive environment for all children to flourish in a range of different physical activities which helps to support their physical, emotional, spiritual, social and moral development.
Our intent is for our Sports Coaches and teachers to deliver the National Curriculum, promoting enthusiasm and curiosity so children have a real desire for understanding about how to live a healthy lifestyle. Our intent is to provide opportunities for pupils to become both physically confident but also understand the importance of teamwork and respect. Opportunities to compete in sport with independence or as a team will be given, embedding values such as fairness, kindness and respect.
We want every child to fulfil their own potential so they can perform with increasing confidence and competence in a range of physical activities. At Mattersey Primary School, our aim is to deliver a PE curriculum which gives children the confidence to understand the importance of equity and diversity in our world, ensuring they understand the diverse ways sports can be played. We want our children to be ambitious and show resilience to become the best they can be.
Implementation
To meet the needs of our mixed-age classes at Mattersey, our PE Curriculum has been designed on a 2-year rolling programme for EYFS/Key Stage 1 and for Key Stage 2. This is to ensure all the National Curriculum is taught to all our pupils before they leave our school.
Physical Education is a key part of the Early Years Foundation Stage as it is incorporated in everyday learning. The physical aspects of the children's learning relate to the objectives set out in the EYFS Development Matters statements and the Early Learning Goals relating to the area of Physical Development.
Throughout Key Stage 1, pupils will develop the fundamental movement skills, to become increasingly confident, extending their agility, balance and coordination. They will engage in competitive physical activities and develop resilience in a range of increasingly challenging situations. They will participate in team games, developing simple tactics for attacking and defending and perform dances with simple movements.
As children move into Key Stage 2, the Key Stage 2 National Curriculum will be followed and the children will be given the opportunity to develop a broader range of skills, developing the ability to use them in different ways. Communication, collaboration and teamwork will be driven throughout our teaching of Physical Education. Children will be taught how to evaluate and recognise their own success, comparing their performances with previous ones and showing resilience and the ambition to improve.
The way in which we implement our curriculum:
The standards for PE have been mapped out on our progression document, ensuring children year on year develop their understanding and skills in: invasion games, gymnastics, dance, net and ball games, striking and fielding games, multi-skills and athletics, outdoor adventurous activities, healthy body and mind and water safety.
PE is taught every week and children receive two 1 -hour PE lessons every week. PE lessons are planned and delivered by our teachers and by our outside specialist providers.
In a PE lesson, we expect the pupils to show our Key drivers -What Matter at Mattersey: Confidence, Curiosity, Honesty, Independence, Resilience, Enthusiasm, Kindness, Perseverance, Teamwork and Respect which the pupils will develop and strengthen throughout their time in school from the EYFS to Year 6.
Teachers will sometimes support, observe or team teach with the outside provider, to develop their own continued professional development and provide them with opportunities to assess PE learning.
Sports Coaches use standards and break these down into smaller learning objectives; these are mapped out on Medium Term Plans, which develops sequential and cumulative learning and progression.
Within our lessons, a key component is to review previous learning, allowing children to understand their learning journey and giving them the confidence to be able to articulate their understanding and link learning together. Learning is reviewed by carefully planned questions which coaches or teachers always ask at the beginning of their sessions.
Within school, Physical Education achievements are celebrated via Class Dojo, in whole-school assemblies and on our hall display. These achievements can be inside and outside of school.
Impact
By the end of Year 6, our pupils will:
Know that exercise has a valuable role in keeping healthy.

Know that muscles have names and show ambition to learn most of them.
Know that group and teamwork thinking and reflection are the best methods to solve problems and overcome challenges, along with demonstrating

Know that there are a range of jumps with varying levels of power, control and consistency at both take-off and landing.

Know that there is a way to throw with accuracy and good technique when throwing for distance.

Know that some athletic activities can improve strength, power or stamina.

Know that rules, strategies and tactics need adapting using knowledge of basic principles of batting and fielding.

Know that they can use a wider range of skills in game situations, along with showing fairness and honesty.

Know that dances can be performed using a range of movement patterns.

Know that appropriate language can be used to evaluate and refine their own and their peers' work and show respect and kindness when evaluating and refining.

Know that gymnastics can develop flexibility, strength, technique, control and balance.

Know that a ball can be passed, received and shot with increasing control under pressure.

Know how to swim 25m unaided in water using one basic method to achieve this distance.

Know how to use different strokes swimming on both front and back.
The impact of our curriculum will show as our children make progress throughout each year. We will have equipped our children with the knowledge and skills to use as they move into the next phase of their education.
Jingle Jog November 2022:
Year 2, 3 and 4 pupils visited Sherwood Pines to take part in the Jingle Jog organised by Bassetlaw School Games and had a wonderful time. All pupils completed the course in their Santa hats and showed true Mattersey perseverance and enthusiasm! We are all in the mood for Christmas now!
Sports Hall Athletics: Y5/6 November 2022
Year 5 and 6 pupils had a trip to the Elizabethan Academy to take part in their Sports Hall Athletics event. This event has become a yearly tradition and always offers our pupils a great opportunity to visit their feeder school, compete against other schools and work with the staff and students at the Elizabethan. Our pupils showed great enthusiasm, respect and team work and we were very proud of them...go Team Mattersey!
Key Stage 2 Boys Football Event: 2022
Boys from the Hive Class visited Retford Oaks Academy to take part in a Football event organised by Worksop Town FC. They had a wonderful time, demonstrating enthusiasm and resilience as they were put through their paces. Well done, boys!
Mega Rugby Festival: 2022
The Hive Class visited Retford Oaks Academy to take part in the Mega Rugby Festival. Great teamwork, enthusiasm and respect from our pupils.
Girls Football Event at Retford Oaks Academy: 2022
KS2 girls had a fabulous day at Retford Oaks taking part in the football event run by Worksop Town Academy. We definitely have some very talented footballers in school!
Dance Festival 2022:
Burrow Class had a fabulous time at the Elizabethan Academy's Dance Festival. They were enthusiastic and worked brilliantly as a team to share their Bollywood themed moves.
Orienteering at Worksop College:
Hive Class pupils took part in the Orienteering competition at Worksop College and did us proud with their team work, enthusiasm and impeccable behaviour.
Enrichment PE: archery with Miss Cheyette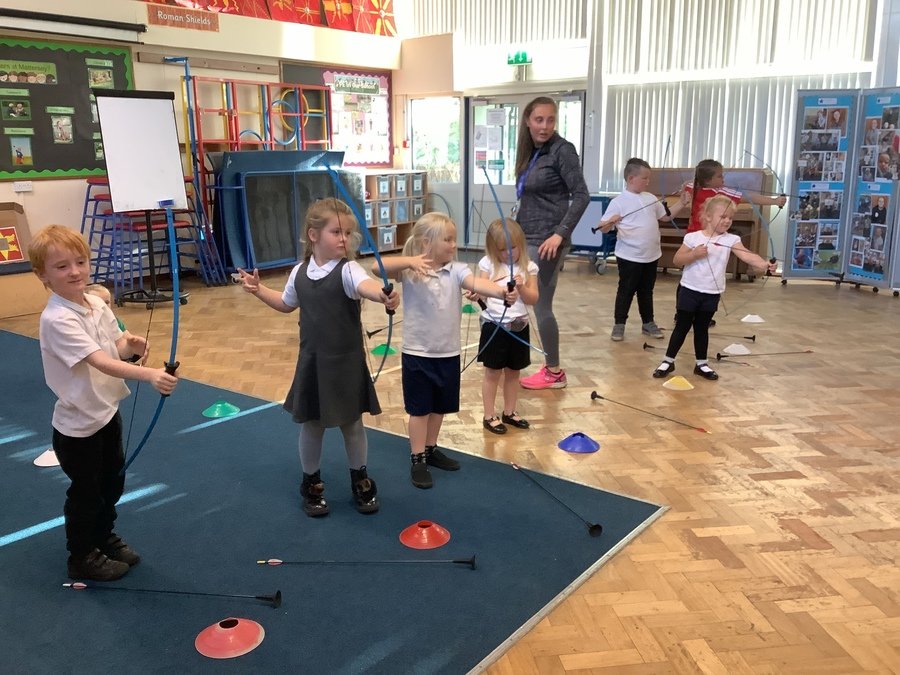 Tag Rugby: Here is our Key Stage 2 Tag Rugby team all ready to compete at Retford Rugby Club in the Tag Rugby Tournament organised by our feeder school. The Elizabethan Academy. We had been learning to play Tag Rugby in our PE lessons but this was the team's first tournament. We were so proud of their team work and enthusiasm. Go Team Mattersey!
Trampolining and Climbing: Our Year 5 pupils visited our feeder school, The Elizabethan Academy, to take part in a trampolining and Climbing event. They showed enthusiasm and resilience and were perfect ambassadors for Mattersey: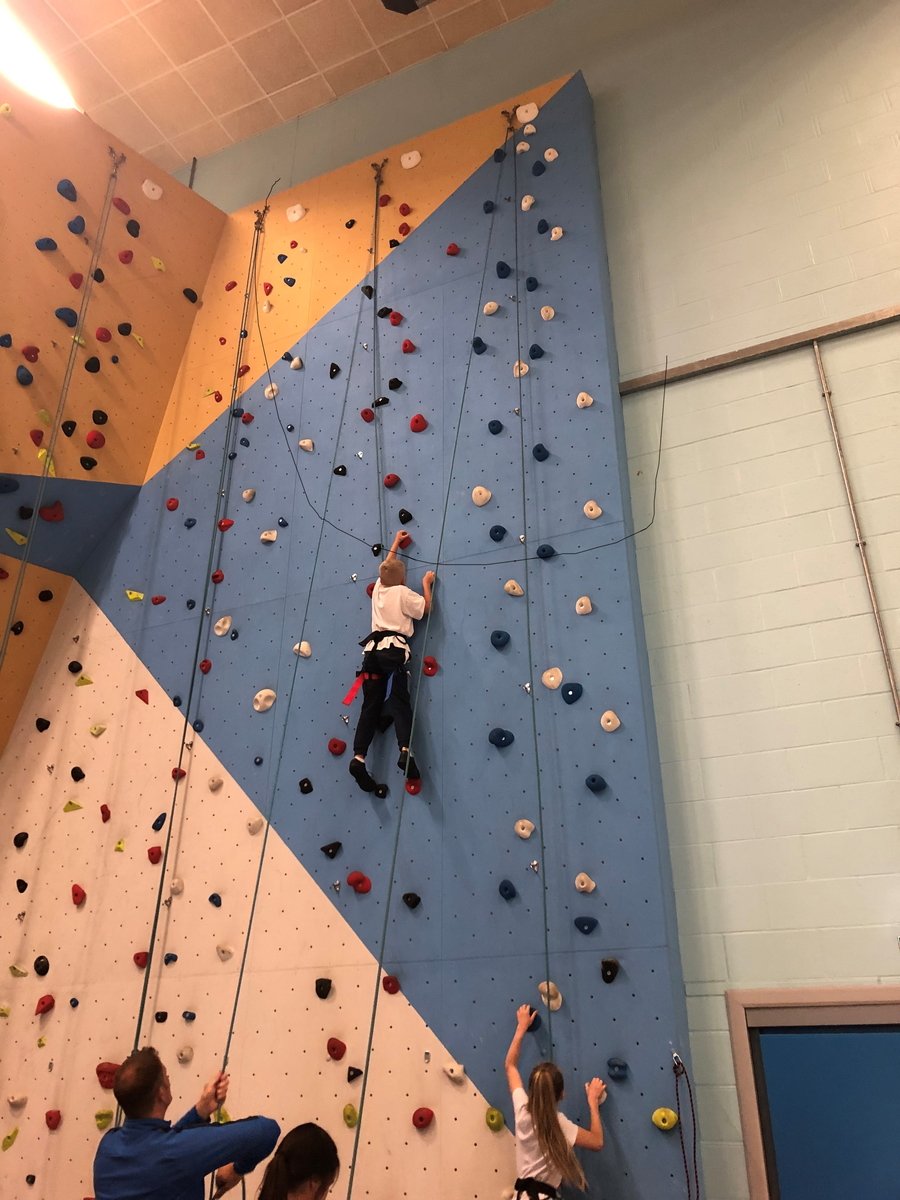 Thorpe Road
Mattersey
Doncaster
South Yorkshire
DN10 5ED
01777 817265
office28@mattersey.notts.sch.uk