Cultural Capital
"You have brains in your head and feet in your shoes. You can steer yourself in any direction you choose".
Dr Seuss
At Mattersey, one of our key aims is to give our pupils a wide range of opportunities and experiences to develop their cultural capital. As a school, we want to build our pupils' knowledge and skills by immersing them in the world they live in.
Hive Class Trip to Sherwood Pines: Jingle Jog- November 2023
The Hive Class had great fun taking part around the course in the beautiful setting of Sherwood Pines. Our Y5/6 pupils took up the challenge to run the course, whereas Y3/4 pupils had a steady walk and jog. Well done everyone. Miss Cheyette even managed to get the pupils their Santa suits - it has got us all in the mood for Christmas!
Hive Class trip to London- November 2023
The Hive Class had a memorable experience this week as they were invited to the Palace of Westminster for the day to learn all about the history of the Houses of Parliament which spans over 900 years from the Anglo-Saxons to the present.
What an incredible experience! It was a long day, leaving Mattersey at 6:30am to make the journey to London. Pupils and staff were greeted by our local MP Brendan Clarke Smith and his team and passed through airport-style security to enter the famous building. As part of the day they visited places such as Westminster Hall and the House of Lords learning all about them on the educational tour. They also enjoyed a Q&A session with Brendan Clarke Smith next to the Jubilee Suite. The pupils were escorted to Westminster terrace to view Big Ben, the River Thames and the London Eye amongst other landmarks. They enjoyed walking along Westminster Bridge and passing Downing Street and other key landmarks. Our pupils were brilliant ambassadors for our school with their excellent behaviour.
We are so grateful to have been given this opportunity on what was an incredibly busy day in London– as they toured the area, pupils came close to the House of Commons where the Chancellor was delivering the new budget! Special thanks to the staff team and Mr Bailey our Chair of Governors, and to our wonderful parent helpers: Zach's dad, John's dad and Leelan's mum.
Memories to last a lifetime for us all.
Children in Need Fundraising- November 2023:
Pupils and staff have enjoyed fundraising for this very worthy cause by holding a non-uniform day and selling Pudsey biscuits. We were also treated to a special dance performance from students from our feeder school, The Elizabethan Academy who paid us a visit as part of their fundraising efforts. Special thanks to Mrs Foster and Mrs Goddard for making the Pudsey biscuits for us and to Frankie, Jacob and Freddie for selling them. We've raised £81.40 so far. Well done and thank you everyone!
Anti Bullying Week - November 2023:
This year's Anti-Bullying Week had a particular focus on understanding the difference between 'banter', 'arguments' and 'bullying'. Pupils have worked on this very important topic in assemblies which started the week led by Miss Cheyette with odd socks. Pupils have also worked on this in PSHE lessons, as well as enjoying a special assembly led by Tony Harris the Children & Families Team Leader.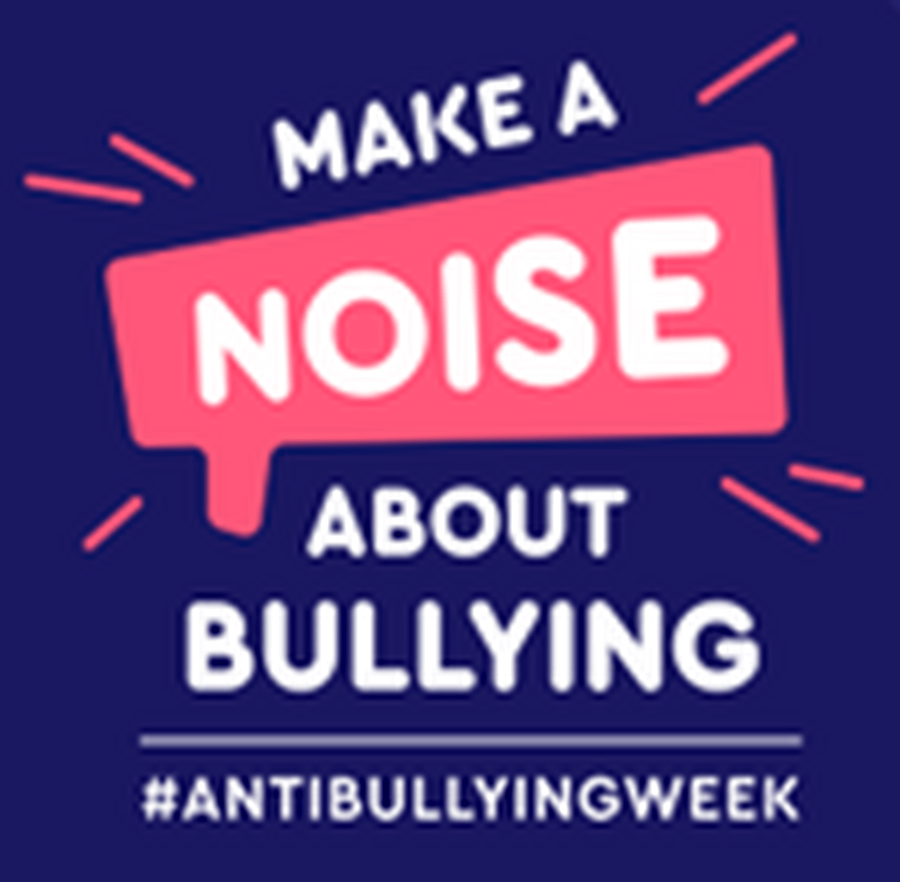 Remembrance Day- November 2023
To mark Remembrance Sunday, we took part in the live online Remembrance Assembly with the Royal British Legion and led by the National Literacy Trust. As a whole school we came together to observe the two minute silence to mark the Armistice. This was a really memorable assembly that brought us all together to remember but also used music, art and poetry to create a unique live-streamed experience to help our pupils to understand why we continue to remember.

Our Hive Class pupils also made their own poppy wreaths and have been selling poppies all week in school to raise funds for the Royal British Legion.
Halloween Art and Design morning and Spooky Disco- October 2023
We've really enjoyed a spooky time as part of our Halloween-themed craft events and disco to celebrate the end of the first part of the Autumn term. Special thanks to our wonderful PTFA and DJ Sam for a fantastic disco. Our pupils made such an effort with their costumes– they looked amazing! We would also like to thanks Mrs Perkins and her Ranskill Craft group for putting on an amazing morning art and design morning where pupils got to test out their art and design skills, making a whole range of spooky items! We liked the spooky spiders the most...
Hive Class 'Meet the Author' event- October 2023
To promote our love of reading, the Hive Class were lucky to take part in a 'Meet the Author' event on Zoom this week with writer Stephen Pass talking all about his new book, Madge the Mermaid. Our pupils took part in a range of activities and asked lots of questions. What an amazing opportunity to learn the writer's craft. We had so much fun!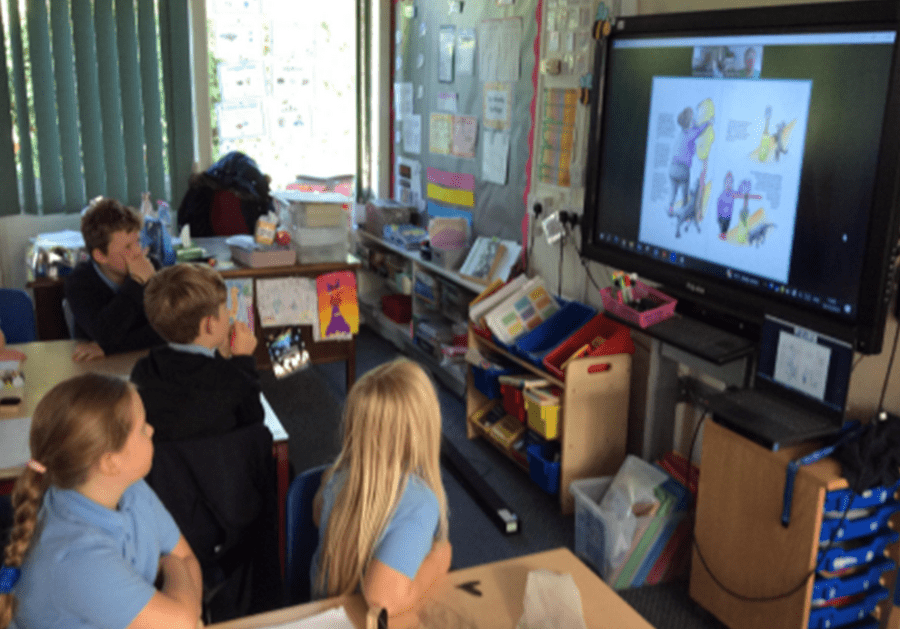 Hive Class- Tag Rugby at Retford Rugby Club- October 2023
Many thanks to our feeder school, the Elizabethan Academy for hosting a Tag Rugby event for our local primary schools. The Hive showed team work, resilience and enthusiasm as they competed against key stage 2 pupils from the feeder primaries at the event at Retford Rugby Club Go Team Mattersey!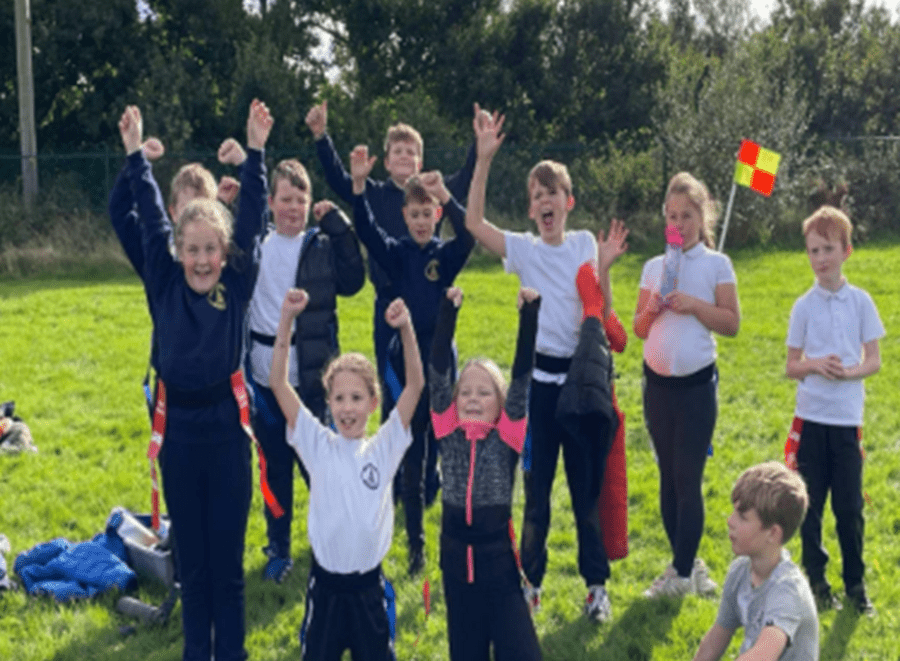 Bikeability training for Year 5/6- October 2023
We welcomed the BIkeability trainers into school to work with some of our Year 5/6 pupils. Cycling is a life skill and cycling safely with confidence is key to enjoyment and participation. Cycling also helps to develop lifelong physical activity habits. This is a government approved programme for national standards in cycle training.
Harvest Festival Service: All Saints Church, Mattersey- October 2023
We had a wonderful Harvest Festival this week. Joined by parents and governors, the pupils and staff walked to church together for the service. Our pupils showed art work, shared a poem and performed readings, as well as singing some of our favourite Harvest songs and hymns. Special thanks to our wonderful church community, and a warm welcome to Rev Liz Mack who led the service with Tony Harris.
Burrow Class trip to the Elizabethan Academy: Multi Skills Festival- October 2023
The Burrow enjoyed their visit to our feeder school this week to take part in the Multi Skills festival alongside other primary schools. What a fabulous event– our pupils showed teamwork, enthusiasm and perseverance. Go Team Mattersey! Huge thanks to the EA for being wonderful hosts.
Fundraising for Macmillan- September 2023
Pupils, staff and parents came together to raise money for Macmillan with a fabulous coffee morning. The Hive Class enjoyed baking to prepare for the event, and pupils from across school and their families donated cakes and treats for us to sell on the day. We raised over £140 which is amazing for our small school. Well done everyone!
Musical Production- 'The X Factory'- July 2023
For the past few weeks, pupils have been busy rehearsing, learning lines and choreography and making a whole host of props building up to our performances where we played to a full house! Our summer production is something of a tradition at Mattersey and this year's didn't disappoint,. It had it all - comedy, singing, at least fifty costume changes and possibly our most technical show yet! We had our very own, 'Simon Trowell' and the audience were treated to singing, dancing and acting with such exuberance from our pupils. Well done to everyone, and special thanks to the staff team for making this wonderful show happen.
Inspire Primary Dance Festival- July 2023
We were delighted to be selected to take part in the Inspire Primary Dance Festival. For the past 6 weeks we've been working with Danni Chell, choreographer and dance teacher, to prepare the pupils to perform. Our theme was based on musical, 'The Wizard of Oz' and we took the pupils to The Squire Performing Arts Centre in Nottingham to participate. They were amazing and what an opportunity for them to perform in such a wonderful theatre space. They really did us proud!
Summer Crafts Event- July 2023
Pupils were treated to a morning of crafts: sewing, weaving and pom poms were the talk of the day. We were so grateful to be joined by the ladies from Ranskill Craft group to work with our pupils. They'd planned a whole carousel of crafts and our pupils really enjoyed themselves and learnt some new sewing skills as well.
Burrow Class trip to Austerfield Study Centre- July 2023
The Burrow enjoyed a wonderful day out on their class trip to Austerfield Study Centre where they took part in a range of activities
including Wild Art and visiting the Animal House. As you can see, they all had an amazing time and were perfect ambassadors for Mattersey with their positive attitudes and excellent behaviour. Well done everyone and so pleased you enjoyed your class trip. Big thank you to the staff and parent helpers for all your hard work on a very hot day!
Hive Class Residential to Walesby Forest- June 2023
Hive Class thoroughly enjoyed their residential to Walesby Forest. What a pleasure they were to take...enthusiastic, resilient, full of team spirit and brilliantly behaved. Many thanks to Miss Cheyette for organising and leading the trip and Mrs Teasdale and Miss Taylor for joining us. The pupils got to experience the 3G swing, abseiling, the climbing wall and crate stacking, as well as the evening camp fire where we sang songs and laughed lots. It was a real opportunity for our pupils to experience a range of adventurous activities and develop their teamwork and resilience.
Hive Class: Meet the Author - June 2023
We were so delighted to welcome author, Marie Basting into school this week to work with the Hive Class. Her new book, My Family and Other Romans was released on the 8th June and so pupils took part in a workshop to learn all about the creation of this historical time-slip adventure. Marie is also the author of the fantastic Princess BMX. We have bought 5 signed copies of her new book to use in school for
both our rewards cabinet and ready for our topic on The Romans next year.
"Matty Bat" Watch: Nottinghamshire Bat Group and All Saints Church, Mattersey- May 2023
All over the UK, 84 Bat Groups are involving local people in bat conservation, raising awareness of bats and their importance
in the natural environment. We were really pleased to be asked to be involved with Nottinghamshire Bat Group. The Friends of Mattersey church group is currently working toward Eco Church status; this means that they are part of a scheme with A Rocha UK which looks at the care of the world around them. They asked the bat group for help to identify which species of bat they had living in the church, and where they were roosting. The group wanted a publicity night for the local community and that's where we as a school got involved.
John Parker from Nottinghamshire Bat group came into school to talk to our pupils about the importance and fascinating information about bats. A 'Matty Batty' event then took place at the church, and many of our staff, pupils and parents attended to hopefully see some bats. Last year the bat group had counted twenty-seven bats emerge, though a roost wasn't spotted at the time. There was much excitement from residents to see whether that number had gone up. The event began in the Village Hall; the group had taken some video footage of previous visits, and played this while children's craft activities were going on. It was then time for the main activity of the evening: all went outside to look for the bats. Members of the bat group had taken thermal cameras with them, this meant that people could get a better look at the bats in the dark. Those with bat detectors soon discovered that common pipistrelle, soprano pipistrelle and noctule were present within the church grounds. Natterer's bats, the species the group had seen emerge previously, were scarcely seen outside in the early evening but when we went into the church due to rain there were more than last year's . The evening was a great success; even the rain couldn't put a damper on the event.
Our pupils really enjoyed their work in school in English and Art and Design all about the theme of bats.
The Coronation of King Charles III- May 2023
We have thoroughly enjoyed our learning about the Coronation of King Charles III. The Hive and The Burrow have been busy making art work, crowns and learning all about the Coronation ceremony. We have made a wonderful display in the hall to show all of the pupils' talent and hard work. We have particularly enjoyed decorating our school, and making our King and Queen scarecrows and decorating delicious cakes. The pupils and families then enjoyed afternoon tea and all pupils were given a commemorative mug
to mark the occasion. Special thanks to Mrs Hunter and the PTFA for arranging these gifts for us. Thank you so much to all the families and governors who donated cakes and joined us for tea and cake, we made a fabulous £136 to contribute to our school fund for our trips
this summer term.
Burrow Class Author event: illustrator Axel Scheffler - May 2023
The Burrow Class have had an exciting week! On Wednesday morning they were invited to join a live online session with the illustrator Axel Scheffler the best-selling illustrator of A Squash and A Squeeze and The Gruffalo, for a morning of storytelling, live drawing and more from the Rose Theatre. He read some new stories and some old favourites, and drew many of his familiar characters. The pupils also had the opportunity to draw-a-long with Axel, as he showed us 'how to draw' some of his and Julia Donaldson's most iconic characters. The pupils produced some amazing drawings– their attention to detail and creativity was wonderful to see. A huge thank you to Wonderland Bookshop in Retford for organising this for us. Believe it or not, it is 30 years since A Squash and a Squeeze was first published. We love this book!
Easter at Mattersey- 2023
We have had lots of engaged pupils learning about the importance of Easter in the Christian faith including a visit to All Saints Church, Mattersey. Pupils have been enjoying Easter-themed activities, as well as making us so proud at our Easter church service with their reading, singing and art work. Many thanks to the volunteers who came in to run the Easter crafts morning, we all had a really creative and fun-filled time. We've been egg-rolling and hunting for the Easter bunny, as well as welcoming a special pet dragon who joined us in the Burrow...it's been magical! Our wonderful PTFA organised a trip from the Easter bunny to deliver chocolate eggs too.
British Science Week - March 2023
What an incredible week it has been to celebrate British Science Week. The pupils have taken part in a range of virtual and live sessions to learn all about the fascinating subject of science. The theme this year is Connections– nearly all innovations in science, technology, engineering and maths are built on connections between people; two (or more) heads are better than one, after all! This week we have looked at space, animals, materials and enjoyed lots of practical work along the way which even included making mayonnaise, volcanoes and slime!
Here's a report of the week by Alexa in Year 6...
On Thursday we welcomed Premier Foods into school and worked with Belle Baldwin who is a sauce technologist. Hive Class pupils made mayonnaise mixing the ingredients of an egg, oil, salt and pepper, mustard and vinegar. The result was really tasty! Then the whole school took part in taste-testing to explore the connections with their senses trying out with flavoured and coloured water– the blue one deliberately tricked us as it was actually water-melon flavoured and we all thought it was blueberry based on its colour! We also tried out crisps and made guesses to the flavour– prawn cocktail, salt and vinegar and roast chicken– yummy! To end the week , we welcomed Little Laboratory into school. First, we made an erupting volcano in the land of the dinosaurs using baking soda, citrus acid plus playdough! We then took part in a slime workshop where we used PVA glue and glitter, food colouring and a slime-activator mixing it together to make transparent or unclear slime products. Best of all, we got to keep our slime creations!
American West Curriculum Enrichment- March 2023
We were delighted to welcome American West into school to support the curriculum work on the Hive Class' topic, 'Road trip USA' learning about the geography and history of North America. Our visitors explained their national dress, and general appearance. They described their historic native life, tipis and wigwams, marriage, divorce, and education. They brought with them an amazing range of museum artefacts and bead work, woven Apache sashes, beaded moccasin, war shirts, dresses, a feather head dress and wolf head dress. The pupils had the opportunity to play traditional games, learn old style Lakota sign language and to take part in the dances accompanied by the native flute. What a fabulous afternoon and great to see the pupils developing their knowledge throughout this entertaining workshop. Even the Burrow pupils got to try on some of the traditional headwear.
Our Wonderful World Book Day: March 2023
This week saw us celebrating reading with a fun-filled day for World Book Day. The pupils looked fabulous in their array of costumes with characters such as Dorothy from The Wizard of Oz, Shakespeare's Juliet, Bob the Builder, Robin Hood, Dork Diaries and Bat Girl to Alice in Wonderland, the Queen of Hearts and the Cheshire Cat. This year we worked closely with Wonderland Book Shop in Retford who provided us with copies of the official books so that we could open our own book shop here at Mattersey. All pupils were given their book day vouchers and were able to spend them taking their chosen book home from school at the end of the day. Pupils could choose from a range of texts including an author signed copy of 'The Strangeworlds Travel Agency' by L.D Lapinski. There was a really good range of genres for the pupils to select from.
Mr Bailey, our Chair of Governors, was our special guest to judge the costumes. It was a very hard choice and after an author-themed game of Corners, the winners were chosen receiving their book prizes. Congratulations to Harry, Scarlett, Eliza C, Shelby, Leelan, Sofia, Joshua OA and Olivia. You all looked just fabulous!
We had also selected some key books for the day and were lucky to be given video screenings of the authors talking about them: 'Amara and the Bats' by Emma Reynolds and 'Glitter Boy' by Ian Eagleton. Then in the afternoon, we had a live Zoom session with author Janelle McCurdy, about her new book 'Mia and the Lightcasters'. Hive Class had studied an extract of this text in one of our reading lessons and asked some amazing questions. We are now looking forward to reading the whole book. Pupils then enjoyed sharing books together and drinking hot chocolate. Perfect.
Rotakids: Aqua Box Project -March 2023
We are now a 'Rota Kids school' and are working with the Rotary Club, Retford. This provides our pupils with opportunities for their personal development. This week we learned all about the Aquabox Project. Rotarians Richard McGrail and Geraldine Matthews worked with the year 6 pupil leaders to teach them all about this incredible project which sends water filters and humanitarian aid to disaster zones and conflict areas around the world. Pupils learnt about the importance of clean water and saw a pump in action that filtered dirty water to ensure it was clear and safe to use. The Year 6 pupil leaders then demonstrated this to our whole school in assembly and talked all the Aquabox can offer. Pupil leaders are now working on ways for our school to raise funds in support of this worthy cause.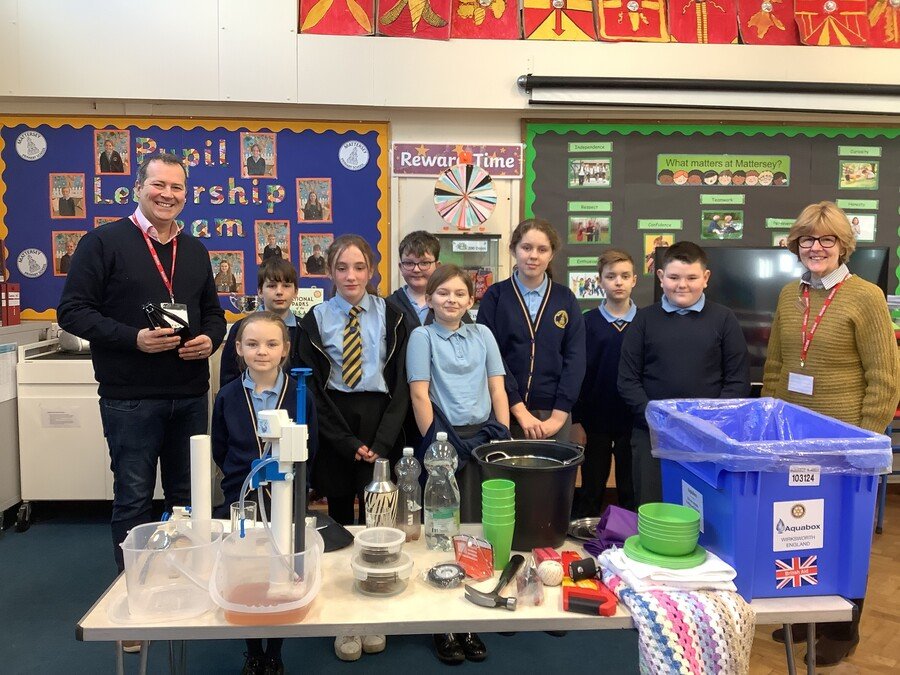 Lion King Live Music and Movement Workshop- January 2023
The whole school took part in a movement and music workshop based on the theatre production of 'The Lion King'. We joined a virtual session, via Zoom, led by choreographers and dancers from V & A Schools Live to learn some of the dances and songs from the famous show. Pupils learnt the 'Circle of Life' and how to move like different animals. It was lovely to watch the confidence, particularly of some of our youngest children in school. The Burrow Class could also make some great links to their Science learning about different types of animals.
Working with the Canal and River Trust- January 2023
An important part of our work in school is to support our pupils' personal development and part of this is linked to preparing pupils well for success in life. This half term, our PSHE topic is 'Keeping Myself Safe' and we have been exploring different elements of being safe. To support this, we had a visit into school from Claire Cavendish the Learning & Skills Coordinator (Yorkshire & North East) from the Canal & River Trust. Claire worked with pupils in the Burrow Class and then the Hive Class on the importance of water safety. Did you know the main reason for accidents with water last year was linked to mobile phone use? The pupils were really interested to learn that distractions caused by mobile phones led to the most accidents with water. We also learned about how to stay safe near water, potential hazards and what to do if we see or get into danger. The pupils were so interested and engaged and Claire delivered some really important and hard-hitting messages in a really child-appropriate way. They are all now well prepared for how to stay safe near water. Well done, Burrow and Hive Class!
Visit from the Youth Mayor- Bassetlaw Youth Council- January 2023
We were really pleased to receive a visit from the Youth Mayor for Bassetlaw Youth Council, Malachi Carroll. He spoke to our pupils in assembly about his role and his work. It is so important for us to see key figures in our local community and learn about the difference they can make. Bassetlaw Youth Council is made up of young people (11-19 years) from across the whole of Bassetlaw who want to influence local decisions about the District. They are passionate about the place where they live and want to ensure that young people's views are heard. We were so grateful to Malachi that he gave up his time to come and visit us. He's also going to be sharing with us an exciting competition to take part in...watch this space!
'An Easy Cheesy Nativity' Performance - December 2022
Our Nativity performance show cased the amazing talents of our pupils. The Easy Cheesy Nativity made our audience laugh and cry and involved real teamwork with our youngest to our oldest pupils taking part...learning lines, songs and preparing to perform took lots of hard work and resilience, but also involved lots of fun with Team Mattersey supporting each other and coming together to celebrate the true meaning of Christmas. Live theatre is such a wonderful experience for our pupils and we all appreciated the great audience turnout to see our performance.
December 2022: Christmas at Mattersey
We've had a wonderful time in school with all of our Christmas events- some that are a Mattersey tradition and other new experiences to enrich our pupils' time in school. Our PTFA hosted a Christmas Market as a fundraiser for school and this included a visit from the Haughton Park Reindeers. We were curious to learn all about them: how they are looked after, their coat and what they eat as well as other features of these amazing animals. The pupils really enjoyed asking questions and showed great enthusiasm and confidence showing them to their families as well.
We held our Nativity Service in School- An Easy Cheesy Nativity -where pupils were a wonderful team from EYFS to Y6 singing, acting and helping every one feel in the festive spirit. It is so important to give our pupils opportunities to perform to a live audience. We then had a whole school theatre treat and visited Trinity Arts, Gainsborough to watch their pantomime 'The Wizard of Oz'.
A highlight was our Christmas craft morning when volunteers from Ranskill's craft group led workshops with our pupils and staff for a range of Christmas-themed crafts. We then walked to church for our Christingle Service led by Tony Harris. We learnt all about the meaning of the Christingle after making our own.
A really special event was welcoming our whole community- parents, families, governors, volunteers to Christmas lunch. We all matter at Mattersey and it was the perfect way to come together, thank those who've helped our school and wish everyone a Merry Christmas, The Hive Class performed festive music on their toots too.- this is only the second time they have performed to a live audience and they were a credit to our school. Well done everyone and Merry Christmas 2022!
November 2022: Visit from our Local District Councillor
We were so pleased to welcome Cllr Gerald Bowers, Bassetlaw District Council and Member for Ranskill Ward, into school for a tour and assembly with our pupils. We learnt all about his role and the work of district councils to make a difference in the community. The visit timed well with the recent election of our new pupil leadership team and Cllr Bowers shared his journey to becoming a district councillor, democracy and the important ways we can help our local community.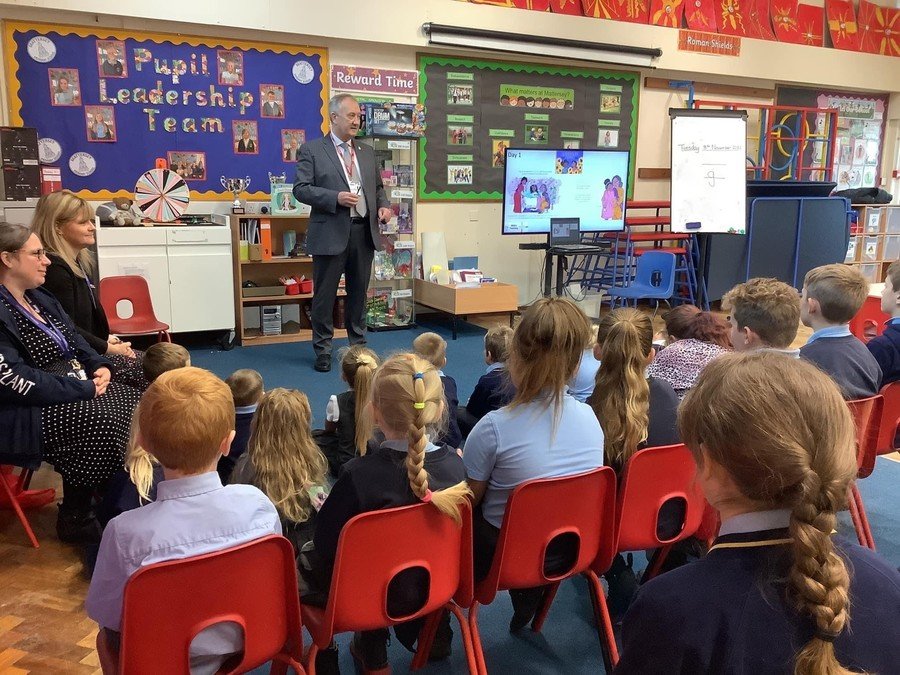 October 2022: Harvest Festival at All Saints' Church, Mattersey followed by our Macmillan Coffee Morning
Pupils and staff walked together to church along with parents and governors to celebrate our Harvest Festival. Burrow Class and Hive Class both shared poems and songs, and the children thought about the importance of farmers and gave thanks to God. We have a generous hamper of food products to donate to Bassetlaw Food bank. Afterwards pupils were joined by their families at our coffee morning in school where the Hive Class entertained with a performance on their Toots and children fundraised for Macmillan through baking and making bracelets to sell. A morning full of community spirit. We also raised over £140 which is a fantastic effort from our small school community.
October 2022: Go Green Eco Heroes
We had a whole school topic event welcoming Go Green Eco Heroes into school to work with our pupils. They were introduced to the superheroes Reduce, Reuse and Recycle to learn all about the importance of looking after our planet. This links to our learning in one of our Science on Environments so it was a great, practical way to learn all about the importance of protecting the environment.
September 2022: Hive Class visit to the National Justice Museum, Nottingham
The Hive Class are studying change over time in their History Topic on Crime and Punishment so to immerse them in their learning, they visited the National Justice Museum. It was a really engaging experience where they visited the dungeons and 'dark cell' from Georgian times, met a Georgian gaoler who put them through their paces and explored the prison routines and punishments from Victorian times. The pupils ended the day in the court room, taking on the roles of judge, clerk, usher, witness, defendant, solicitor and barrister. This really helped them to remember their learning in school of the layout and procedures in a court room.
Autumn Term 2022: Music lessons for the Hive Class
We are very lucky to have Mr Poole from Inspire Music in school every Thursday this term to teach the Hive Class to play the toot. It hugely benefits the pupils work with a music specialist and they are learning how to play melody parts on tuned instruments with accuracy and control and developing instrumental technique linked directly to the skills in our music curriculum. They are developing their skills in order to build to an end of term performance focussing on the skills of keeping in time with others and communicating with the group. As well as delivering our music curriculum, this is giving the pupils a wonderful experience of working with a musician, enjoyment of live music and building their confidence in performance.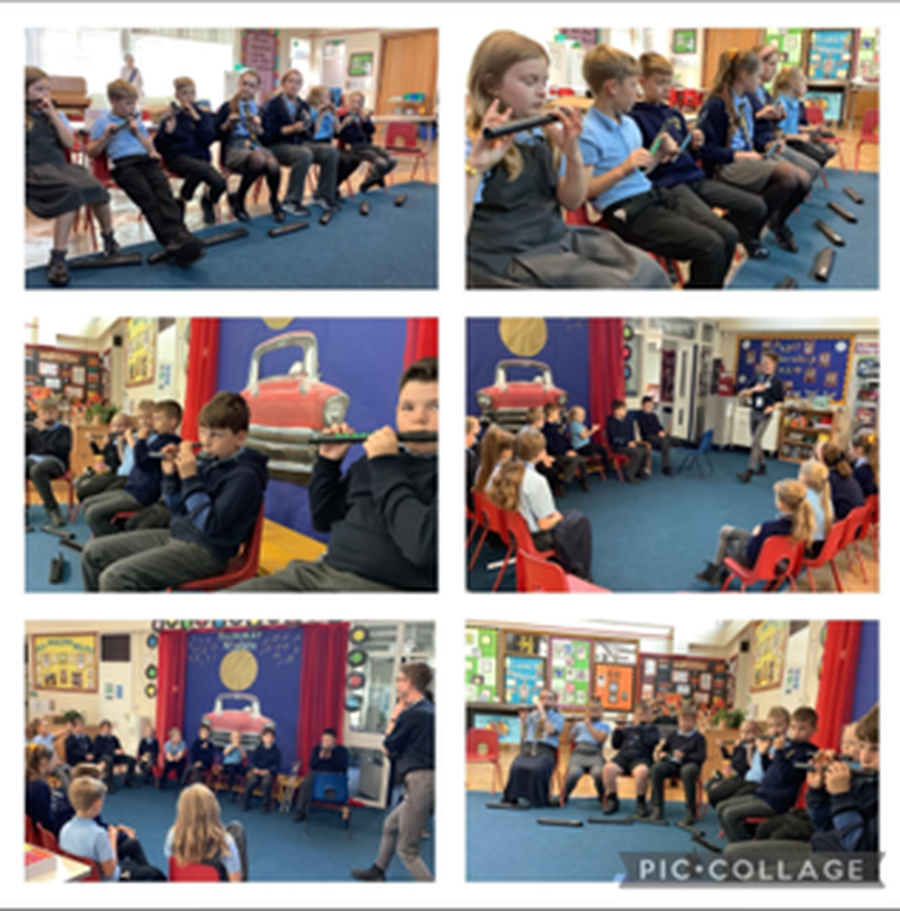 Summer Production 2022: Summer Nights
Our whole school production was a triumph: pupils vibrantly performed with confidence and enthusiasm. Music, dance and drama are an important part of our creative curriculum at Mattersey and we really value the experience that this gave our pupils. A real team effort!
Visit from the Fire Fighters from Retford Black Watch- July 2022
We were so lucky to have a visit from the fire fighters from Retford Black Watch. The pupils enjoyed learning about fire safety, meeting the team and looking round the Fire Engine.
Sports Day: July 2022
Thank you so much to all our parents and families who turned out to support us for Sports Day. There was such a lovely atmosphere and our
Mattersey pupils doing what they do best – older pupils supporting younger pupils and all supporting each other. Fabulous team Work, resilience and kindness on show from Team Mattersey!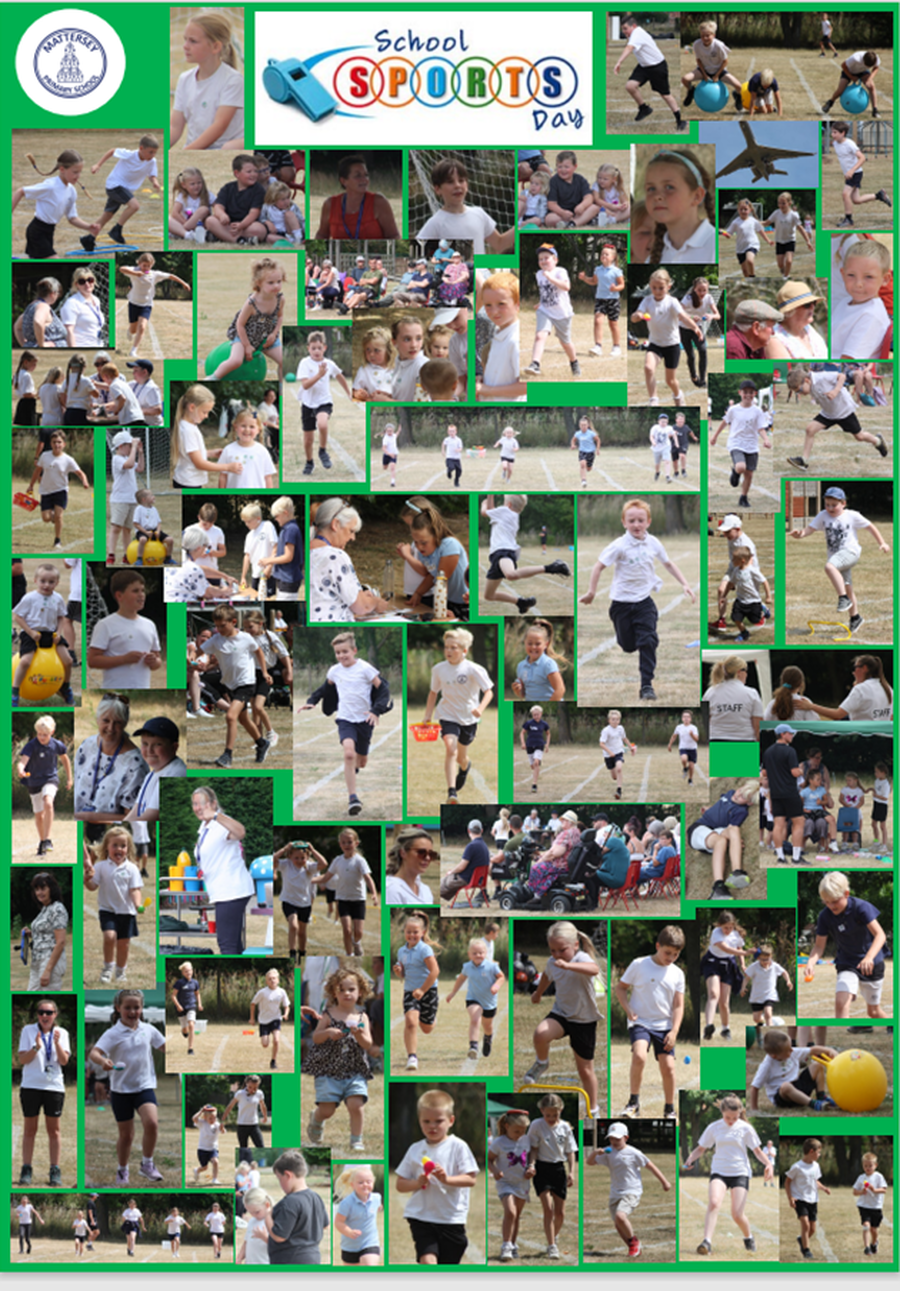 Austerfield Study Centre: Hive Class Residential- 11th/12th July 2022
The Hive Class enjoyed their residential- our first school residential since Covid. The pupils had a 'hands-on minds-on' learning experience to enrich both their academic and social development. The pupils enjoyed spending time taking part in outdoor activities- we completed Pond Life, Wild Art, Survival Skills and the Animal house. They were a credit to Mattersey- resilient, curious and amazing in their support of each other with their team work. It was a really fabulous experience for our pupils to have the adventure of being with their friends away from home and to develop our 'What Matters at Mattersey' learning characteristics.
Harley Gallery, Wellbeck- The mystery of the Portland Tiara - 7th July 2022
The Hive Class showed curiosity and respect on our visit to the Harley Gallery for their art detectives workshop. The pupils enjoyed touring the gallery and investigating the mystery of the missing Portland tiara. What a beautiful place to visit and appreciate an interesting collection of art work- the pupils particularly enjoyed their time in the education room writing newspaper reports and making their own tiaras.
Expressive Arts Workshop- 4th July 2022
Mrs Cowan from the Elizabethan Academy, our feeder school, came to join us for an Expressive Arts workshop and to talk to the pupils about art scholarships to the Elizabethan Academy. Our pupils were fantastic in their efforts with the Queen tribute performance and we were very pleased to invite parents into watch their performance. All Y5 pupils were given the form to apply for the art scholarship and we had many interested pupils who are enthusiastic to share their talents in music, art and drama.
Elizabethan Family Sports Day: 30th June 2022
The Hive Class showed resilience, enthusiasm and team work competing against the family of primary schools at the Elizabethan Academy's Family sports day. Amazing efforts from Team Mattersey!
Trampolining and Basketball Event: June 2022
This week our Reception and Key Stage 1 pupils from the Burrow class took part in a trampolining event at our feeder secondary school, The Elizabethan Academy. As you can see, although it had it's up and downs, it was an extremely fun day! All of our pupils showed amazing Teamwork and Enthusiasm.
DAaRT Life Skills Education: June 2022
The DAaRT Life Skills Education primary programme was delivered to our year 5 and 6 pupils recently. The programme equips pupils with a range of knowledge and skills which they can use as they transition to secondary and beyond. This week saw the DAaRT alumni graduate with PC Ros Manson presenting them with their certificates. Well done to all of our pupils, and a special mention to Alexa, Scarlett, Joshua T, Eliza and Emily for taking the lead in the graduation assembly. Special thanks to Officer Manson for coming back to celebrate with us.
Jubilee Tree: June 2022
On Thursday the sun shone for us again for our Platinum Jubilee Oak Tree Planting Ceremony. It was wonderful to welcome parents and governors to school to join in our service which was led by pupil leaders Joshua and Alexa. Many thanks to the Tomlinson family for making the fabulous bench and plaque and also to Mrs Teasdale for accompanying the children on the keyboard with their singing. In honour of Queen Elizabeth's Platinum Jubilee 2022, each family were presented with this once in a lifetime history book for children which tells the story of a young princess who grew up to become our longest reigning monarch, and celebrates the achievements, people and places that have become part of her remarkable legacy. Thank you to everyone who made this such a special day.
Assembly with Nottinghamshire Police: June 2022
PCSO Stothard visited school to talk to all of our pupils about how to keep safe. Year 5/6 pupils then had a special presentation in accordance with National Knife Crime Week. This is an incredibly important message to get across to young children, especially at this age when they could be vulnerable to peer pressure going up to secondary school.
KS2 Athletics Event at Retford Oaks Academy: June 2022
Great news! Mattersey came 6/13 competing schools at the athletics event at Retford Oaks. Ahead of us were some pretty big schools so our team performed fabulously coming first in many events! Here are some images showing great teamwork and resilience from our Mattersey pupils.
Mattersey's Party in the Park for the Queen's Platinum Jubilee: 2nd June 2022
We were so delighted to be asked by Mattersey's Parish Council to be part of a fantastic party in the park to commemorate the Queen's Platinum Jubilee. Staff, pupils and parents came together in the half term break to celebrate- running a marvellous cake stall, tombola and refreshments. The pupils entertained guests at the event and had a wonderful time alongside the rest of our village community. We very much wanted to be part of our local community for this special event, but we also managed to raise nearly £500 for school funds which is truly incredible. Special thanks go to the staff, PTFA and pupils who came along. True team work- we all matter at Mattersey!
Key Stage 2 Boys Football Event: May 2022
Boys from the Hive Class visited Retford Oaks Academy to take part in a Football event organised by Worksop Town FC. They had a wonderful time, demonstrating enthusiasm and resilience as they were put through their paces. Well done, boys!
Visit from the Conservative Member of Parliament for Bassetlaw: May 2022
We welcomed an important visitor into school today; Mr Brendan Clarke-Smith MP who is our Member of Parliament representing Bassetlaw. We were able to show him around school visiting each class then we had a questions and answers assembly in the hall.

The children posed some very good questions ranging from whether he had met Boris Johnson, our Prime Minister; whether he had seen the Queen; whether he had visited Downing Street; and who was the most famous person he had met (Joanna Lumley was the answer)!

He then told us about his role as a member of parliament and the sorts of things he gets involved in both in his constituency as well as in the House of Commons. The children had learned about 'bobbing' in class and were amazed to hear that MP's do it during Prime Minister's Questions! If you don't know what 'bobbing' is, ask one of your children! He was really impressed with questions the children posed and our little school!

Hopefully, the children may even have the opportunity to visit the Houses of Parliament over the coming year on a special educational trip.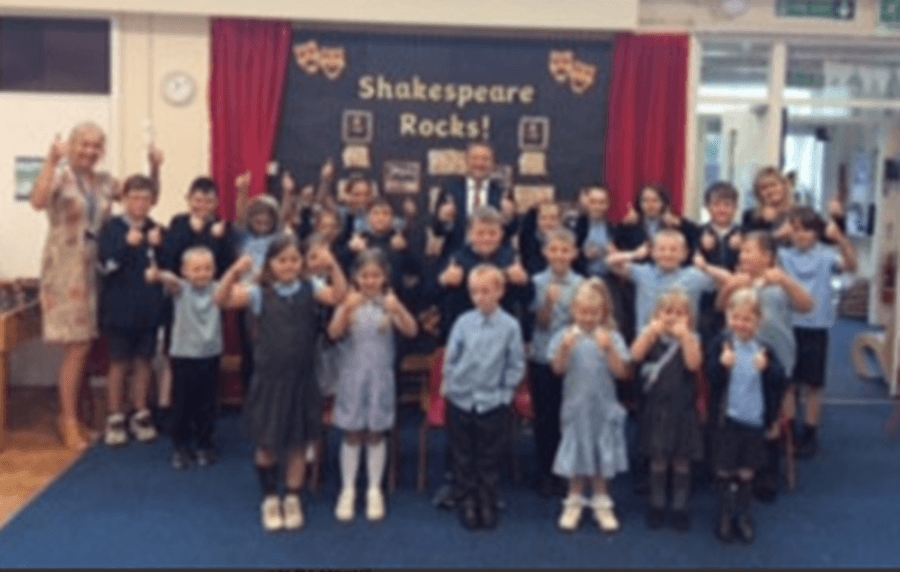 Road Safety Workshops- visit from Via East Midlands Limited: May 2022
We had a visit from road safety officers from Via East Midlands to run workshops on road safety for all of our pupils in school. Children learnt about traffic signs and the importance of wearing seatbelts and using car seats. We also explored how to be safe when walking to school and riding on our bikes and scooters. As our pupils develop their independence, it is really important that they know how to keep themselves as safe as possible. Older pupils listened to a talk and watched a video about road traffic and accidents- Year 5 and 6 pupils are preparing to transition to secondary school and so guidance for keeping themselves safe when catching buses and getting to school independently is an important part of this transition so we know that they leave Mattersey, prepared for the next steps of their lives.
Mega Rugby Festival and Girls Football Tournament: Retford Oaks Academy April 2022
Our pupils enjoyed opportunities to work competitively with coaches from Worksop Town Academy as they visited Retford Oaks. A girls football event and then a rugby festival organised by Bassetlaw School Games. Our pupils experienced the sport facilities and working with coaches, as well as demonstrating what matters at Mattersey: enthusiasm, teamwork and respect. Well done KS2!
Plant a Tree for the Jubilee: April 2022
The Queen's Green Canopy (QGC) is a unique tree planting initiative created to mark Her Majesty's Platinum Jubilee in 2022 which invites people from across the United Kingdom to "Plant a Tree for the Jubilee".
With a focus on planting sustainably, the QGC will encourage planting of trees to create a legacy in honour of The Queen's leadership of the Nation, which will benefit future generations. As well as inviting the planting of new trees, The Queen's Green Canopy will dedicate a network of 70 Ancient Woodlands across the United Kingdom and identify 70 Ancient Trees to celebrate Her Majesty's 70 years of service. Mattersey Parish Council kindly asked the children of our school to play their part to enhance our environment by planting these trees on our school site. Along with the kind help of Mrs Fullwood and Mrs Skelton, the children planted 30 saplings including rowan, birch and beech. Each child/family wrote their names on the plastic protectors so they could identify them as their own tree in future.
Easter Service 2022:
After snowfall (yes, in March!) changed our plans, we welcomed Rev. Becky and Tony Harris into school hall for our Easter Service. Hive Class pupils read from the Bible with confidence and respect, and our Burrow Class pupils enthusiastically shared their class Easter poem and their fabulous chick-themed art work. Special thanks to Rev. Becky and Tony Harris whose warmth, humour and passion really supported our pupils in their understanding of the meaning and importance of Easter for Christians.
We were also able to draw our Easter raffle which our PTFA have worked so hard on, raising £400 for school funds.
British Science Week 2022 : 11th-20th March
We thoroughly enjoyed Science week at Mattersey. Hive Class pupils visited QEHS in Gainsborough and enjoyed a range of activities at their STEM fair– the earthquake simulator, RAF robotics and squeaky pop test seemed to be the favourite workshops amongst our pupils.
We also welcomed Premier Foods into school on Thursday where pupils found out all about growth with food and did a bottle investigation with yeast, as well as making their own bread.
Comic Relief 2022:
We raised funds for Comic Relief by celebrating red nose day with a non uniform day. We sold red noses and special red nose day themed cupcakes too.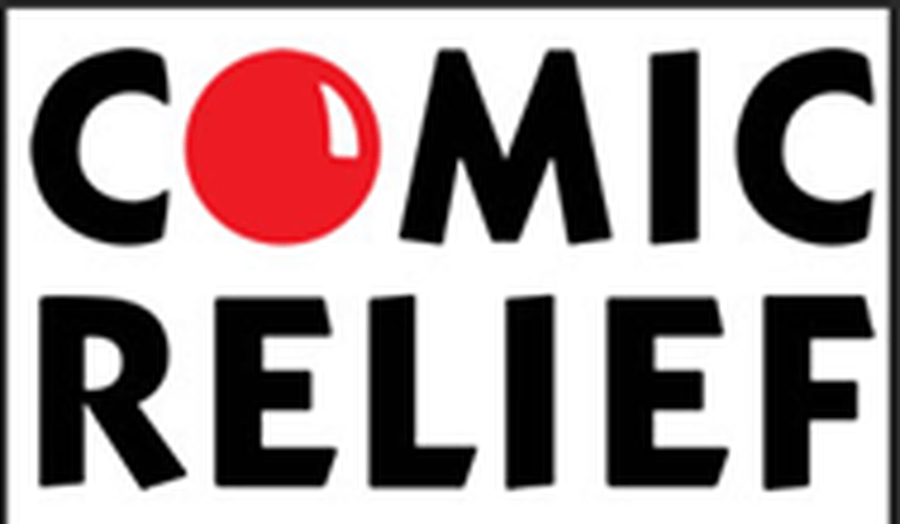 Southwell Minster Time Travelling Pilgrimage: March 2022
Pupils explored prayer, communion, pilgrimage, creation, choristers and the Chapter House in the magnificent Minster.
World Book Day 2022
We celebrated our love of reading by dressing up as a favourite book character or author. The pupils went to so much trouble it was very difficult to select our costume winners. We shared a new book, 'Love is...' by Sarah Maycock and Lily Murray. The Hive Class then completed some beautiful watercolour paintings linked to the illustrations in the text.
Bikeability January 2022: pupils in the Hive Class have started their Bikeability training and completed Level 1. Bikeability is a government recognised scheme to support children to become confident and responsible cyclists. Year 5/6 pupils will progress to Level 2 next week.
It's a Nativity:
The pupils and staff welcomed our community into school; parents, families and friends, governors and members of our village community to perform, 'It's a Nativity'. It was so wonderful to perform live for our audience and special guest Rev. Becky supported us to celebrate the Christian meaning of Christmas. The heartfelt singing and confidence of our pupils made us all very proud.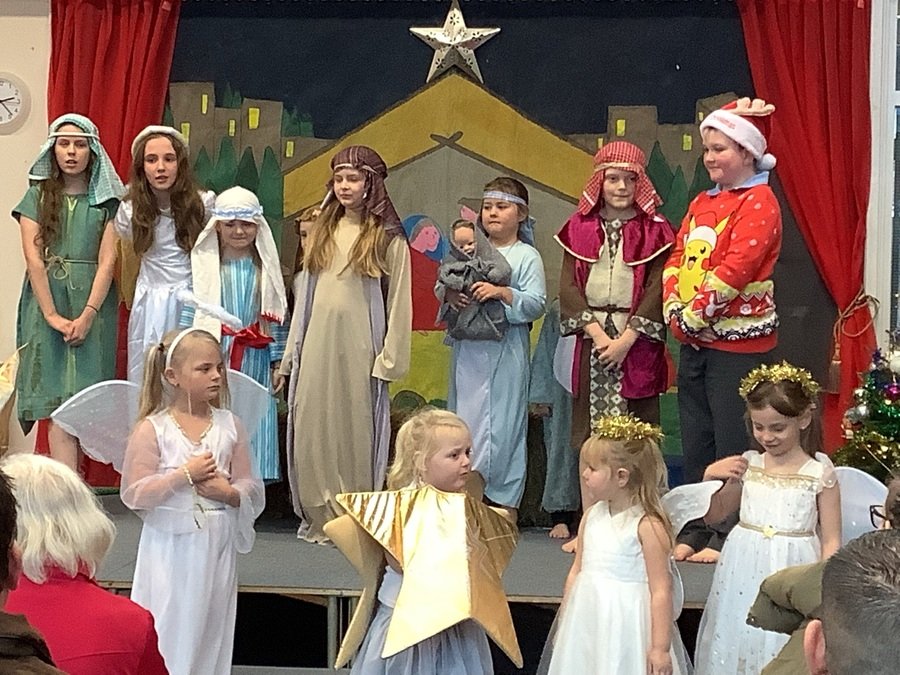 Community visit: December 2021. Pupils from the Hive Class visited Lound Hall Care home at the end of term to sing Christmas Carols to the residents. This was such a lovely thing to be able to do within our local community, and we ensured that we were Covid safe by standing under a gazebo outside. Great enthusiasm and kindness was shown by our pupils in doing this to bring a smile to the residents' faces so close to the festive season.
Pantomime Trip December 2021: The whole school enjoyed a trip to the theatre, Trinity Arts Centre Gainsborough, to see their production of 'Aladdin'. It was a fabulous production and the perfect treat for the staff and pupils after a busy term. We even got to meet the cast at the end!
Children in Need November 2021: our pupils have chosen a day of fundraising for this very worthwhile charity.; we've all taken part in a non uniform day and selling Pudsey biscuits to raise money. Well done Team Mattersey!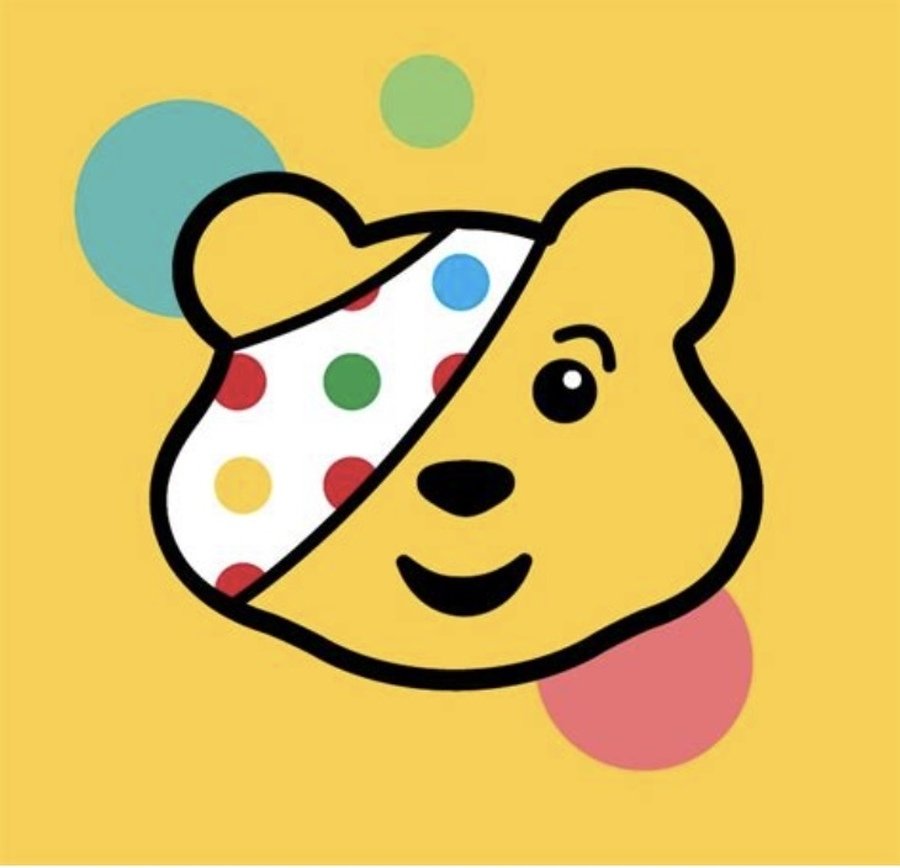 Anti-Bullying week (November 2021) We raised awareness by wearing odd socks to school and then pupils and staff worked in groups to edit our anti bullying policy together.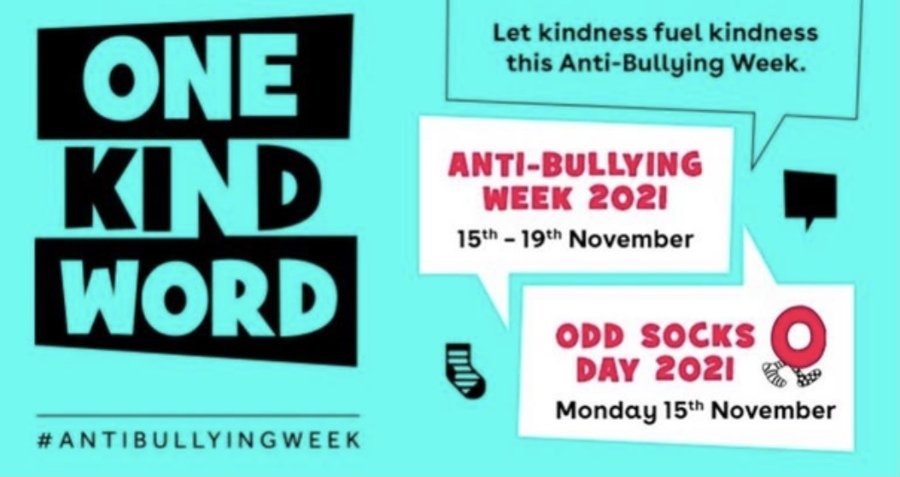 Remembrance Day:2021 we were so lucky to receive a visit from Ann Hickman from the Royal British Legion to lead an assembly with our key stage 1 and 2 pupils about why we remember. She told the pupils all about the work of the British Legion and why it is so important. Such a pleasure to welcome Ann back into school and so important for our children to hear things from her point of view. Olivia and Emily from the pupil leadership team have been selling poppies at break time.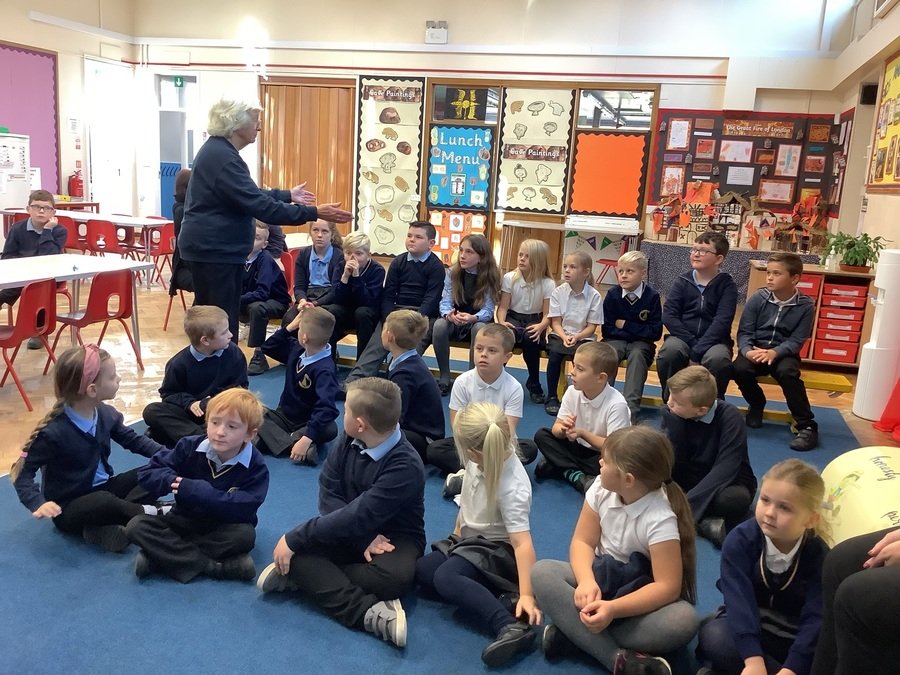 Orienteering: To develop their practical skills in PE and Geography, the Hive Class are working with orienteering expert Mr Parkinson every Friday afternoon. Orienteering is an exciting and challenging outdoor sport that exercises the mind and the body. The aim is to navigate between control points marked on an orienteering map. Each week, the pupils have different maps and challenges to complete.
Enrichment PE: Miss Cheyette has organised our enrichment activities with Archery for both classes in school:
Science at Mattersey: Dr Young from Worksop College visited us to give Key Stage 2 a Chemistry workshop. Pupils were so enthused with the experiments- lots of excitement- we love Chemistry at Mattersey!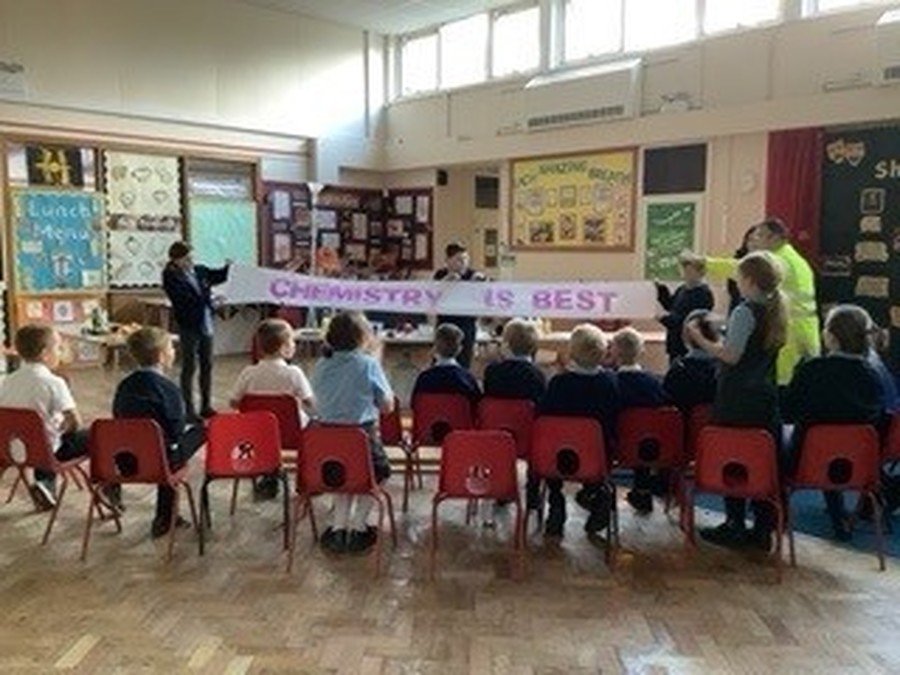 Shakespeare Rocks: We believe the Arts are a really important part of developing our pupils creativity and talent, and we were very proud to perform 'Shakespeare Rocks' in our outdoor theatre setting for a live audience. Our production involved all of our pupils in a range of roles from acting, singing, set design and prop making- a real Team Mattersey effort! What was also wonderful, was how much our pupils loved learning about William Shakespeare, his life and his works. 'Macbeth' was a particular favourite in The Hive Class. Enter text...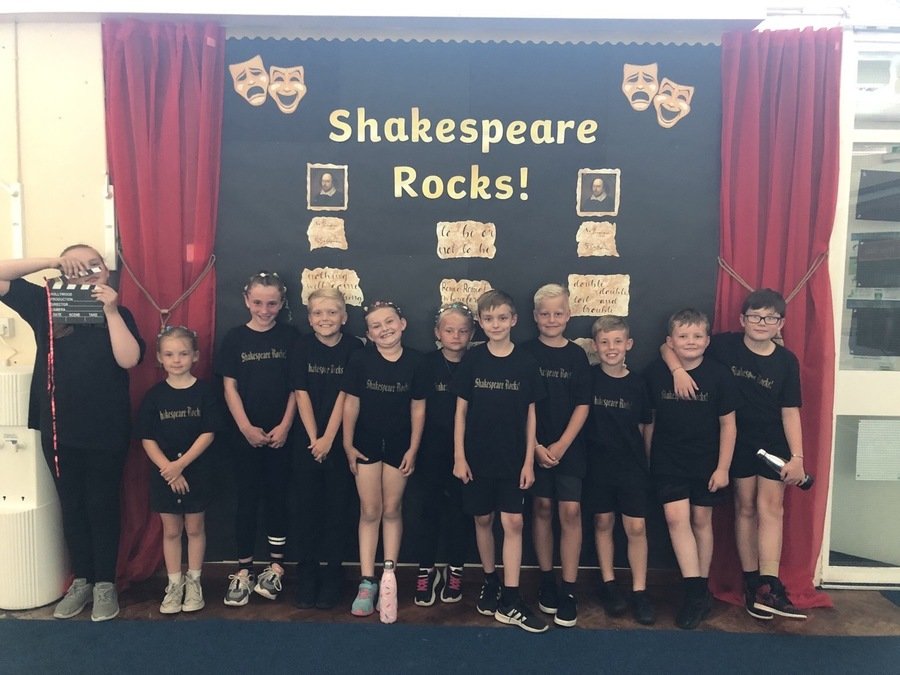 You are a Champion! Competition winners: Mattersey pupils were lucky to win

a free ticket to an exclusive Marcus Rashford interview from the National Literacy Trust. We also were sent a free copy of his new book, You Are A Champion. Pupils in the Hive Class enjoyed watching the interview and learning about how Rashford overcame difficulties to become a top football player. It promoted lots of discussion in the classroom and the book has also gone down really well in our reading area.
Butterfly Conservation: We were so lucky to have a visitor in school from the East Midland's Butterfly Conservation team. We learnt all about this important work and even took part in a butterfly hunt: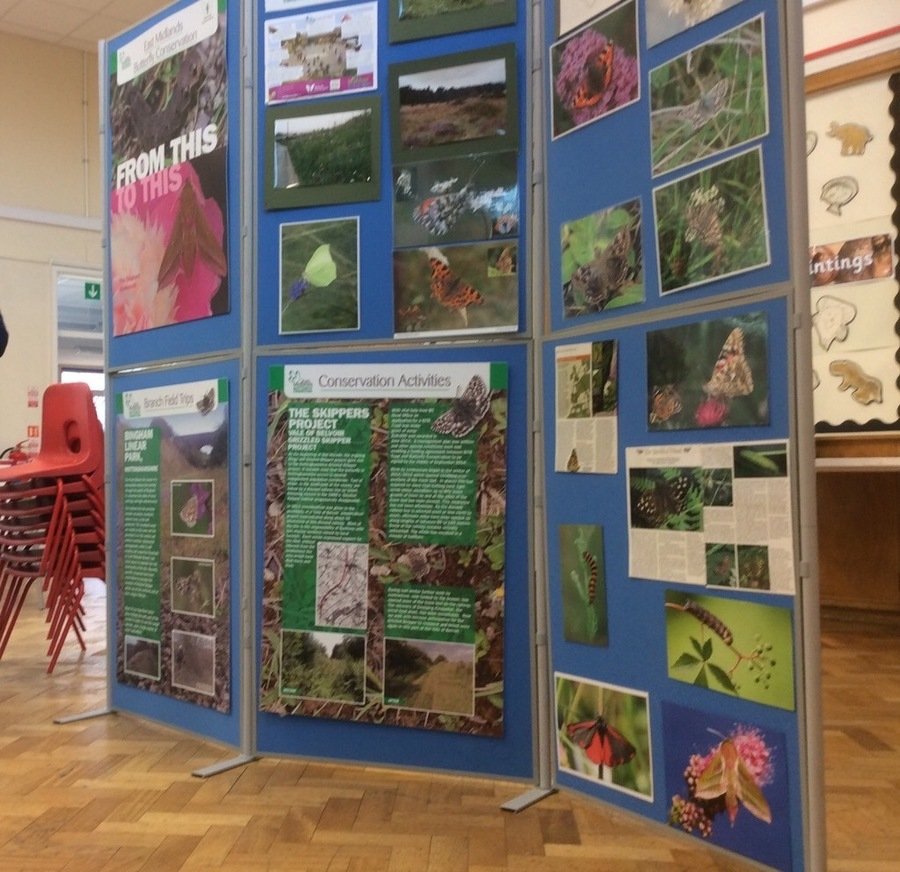 Show and Tell: We love Show and Tell sessions at Mattersey, and we were totally inspired with Zoom learning during the lockdown periods as it meant children could share their pets and features of life at home with their peers. We've continued this in school as the pupils got so much out of it, and have welcomed many visitors to school since then…puppies, ducklings, hamsters…the most recent being Valais black nosed sheep. Such meaningful experiences for our children to see and hear about different animals, but so fantastic that our children will confidently talk about their pets and answer questions. Here we learnt all about this special breed of sheep, how to look after them and their distinctive features:
Thorpe Road
Mattersey
Doncaster
South Yorkshire
DN10 5ED
01777 817265
office28@mattersey.notts.sch.uk